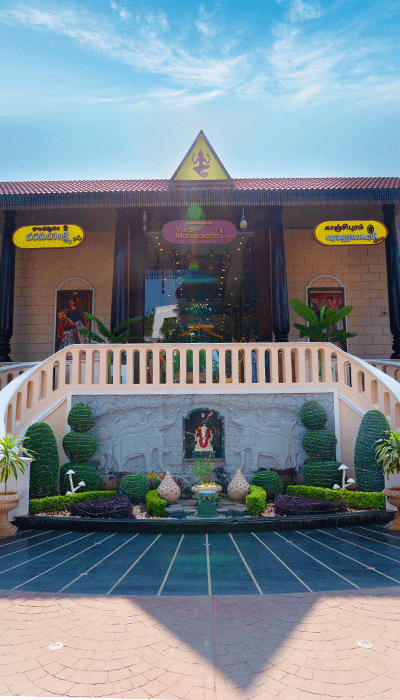 People used to travel to Kanchipuram to purchase silk sarees for weddings and special occasions – and we wanted to change that; we wanted to bring Kanchipuram's authentic feel and beauty to the metropolis.
Following the phenomenal success of Brandmandir, we studied the market demand and began focusing on this area immediately.
On October 18, 2012, one year after the introduction of Brand Mandir, we opened the first Varamahalaxmi store in Kanchipuram, Tamil Nadu, to understand and master the secrets and art of pure Kanchipuram sarees.
Our efforts were rewarded, the system was successful, and we saw a potential structure to invest in. So we quickly injected all of our energies. We quickly expanded to several stores with locations in Bangalore, Hyderabad, Chennai, Vijayawada, and Nellore, scattered over four states.
Each store has a distinct temple-style elevation and interiors influenced by carvings and temple paintings. Rather than following current trends and methodologies, we decided to reimagine centuries-old traditional methods of selling sarees. As a result, every Kancheepuram Varamahalakshmi store has a tranquil aura, a wonderful ambiance, a heavenly vibe, and an extraordinary assortment of silk sarees warmly welcomes customers. It mesmerizes them with a tradition-rich shopping experience like never before.
The brand is positioned as a concept of value retail format, with sarees designed and made in-house, making the range available at the lowest price to customers compared with the market. Every saree housed is exclusive, elegant, and exceptional in its own way. The entire range is the quintessence of regality and a fabulous fusion of fashion and finesse. It has an enticing range from bridal collections to festive, party, and casual wear sarees, including Kancheepuram, Aaranis, Banaras, Dharmavaram, Uppadas, and Handloom sarees.
Kancheepuram Varamahalakshmi Silks has received an overwhelming response from the public since its inception, and it now has 21 stores spread across four states.